Technical Service and Support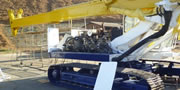 BPD Geotek Solutions SA offers a comprehensive after-sales support service for the entire range of equipment that we sell.
We at BPD Geotek Solutions know how important it is for our customers to be able to get parts and service support when needed, and that is the reason why we dedicate so much attention to our support services.
For Firms interested in keeping their machinery in tip-top condition at all times, we provide maintenance contracts and inspections from our yard in Johannesburg.